Republished excerpt of article by Lucas Mearian, Senior Reporter, Computerworld
In a joint report for the Monitoring, Evaluation, Research and Learning (MERL) Technology conference this fall, researchers who studied 43 blockchain use cases came to the conclusion that all underdelivered on claims.
And, when they reached out to several blockchain providers about project results, the silence was deafening. "Not one was willing to share data," the researchers said in their blog post.[
In their research, Christine Murphy, a social researcher at Social Solutions International and John Burg and Jean Paul Pétraud, fellows at the U.S. Agency for International Development, found a proliferation of press releases, white papers and persuasively written articles touting the many attributes of the distributed ledger technology (DLT).
"However, we found no documentation or evidence of the results blockchain was purported to have achieved in these claims. We also did not find lessons learned or practical insights, as are available for other technologies in development," the researchers reported.
"Despite all the hype about how blockchain will bring unheralded transparency to processes and operations in low-trust environments, the industry is itself opaque. From this, we determined the lack of evidence supporting value claims of blockchain in the international development space is a critical gap for potential adopters," they added.
Blockchain pilots and proofs-of-concept, however, are not without value, the researchers noted; in the end, the real value of blockchain deployments may not be technology itself, "but rather as an impetus to question what we do, why we do it, and how we could do it better."
The scathing evaluation of blockchain by the research trio was backed to some extent by industry analysts, who said the marketing hype around it has created unrealistic expectations, especially as enterprise use is not yet fully baked.
Avivah Litan, a Gartner vice president and distinguished analyst, said while the report's findings came as no surprise to her, it lacked balance. The researchers did not bother to ask why projects had not delivered on goals, such as improving transactional efficiency, transparency and privacy, she said.
"Back in early 2018, we'd already said… 99% of enterprise projects are dead end; 99% don't need the technology; they don't get out of the lab. They're a result of CEOs fear of missing out – the FOMO phenomenon," Litan said. "Having said all that, it's a very valuable technology. People started trying to use it before it was ready for prime time. That's true in the cryptocurrency world and in the enterprise blockchain world."
Gartner gauges the maturation of new technology through a "Hype Cycle," a graphic-based lifecycle that follows five phases: from the Technology Trigger, when proof-of-concept stories and media interest emerges, to the Plateau of Productivity, when mainstream adoption occurs – if the technology is more than niche.
Among those five Hype Cycles is the Trough of Disillusionment, when interest wanes as pilots and proofs-of-concepts fail to deliver and technology providers either work out the kinks and improve the technology to the satisfaction of users, or ultimately fail and die out.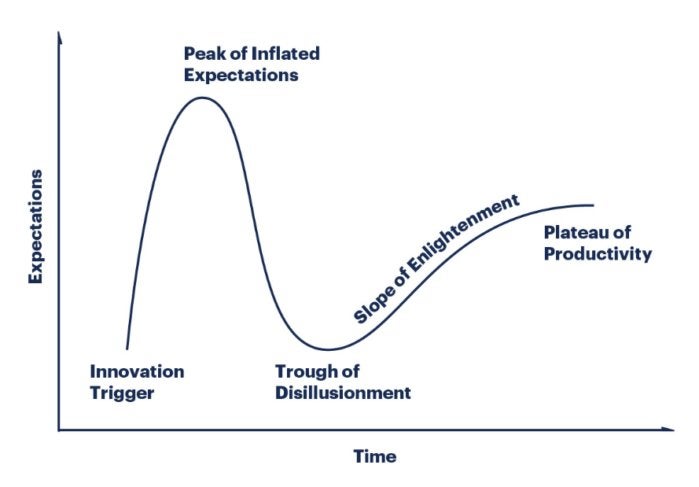 Enterprise blockchain technology that's centrally administered like a traditional database yet still part of a peer-to-peer architecture that immutably stores encrypted transactions is headed into the Trough of Disillusionment, Litan said.
"Blockchain winter has come," Litan said.
Earlier this year, a Gartner CIO survey revealed on average that only 3.3% of companies worldwide had actually deployed blockchain in a production environment.
In a blog post, Litan listed eight hurdles needed for blockchain to advance and meet the goals stated by technology providers hawking it as a cure-all for virtually any international, transactional network need – from fee-less, cross-border payments to supply chain tracking.