From Istanbul to Barcelona, the co-operative movement is flourishing as employees revive what the bosses buried
Reports from Jon Henley in Marseille and Thessaloniki, Ashifa Kassam in Mataró, Spain, Constanze Letsch in Istanbul and Uki Goñi in Buenos Aires for The Guardian – Original Article – http://www.theguardian.com/world/2015/may/01/may-day-workers-of-the-world-unite-and-take-over-their-factories
Argentina: 'At first it was rough' by Uki Goni
All his life José Pereyra had been a waiter. For 20 years he served tables at Los Chanchitos (The Little Piggies), an old-style parrila (grill) at a strategic corner in Buenos Aires, on the borderline between two of the most densely populated middle-class neighbourhoods of the city.
Specialising in finger-licking grilled pork and generous helpings of homemade pasta, and with a faithful clientele that had kept it in business for three decades, Pereyra expected Los Chanchitos to provide firm job security.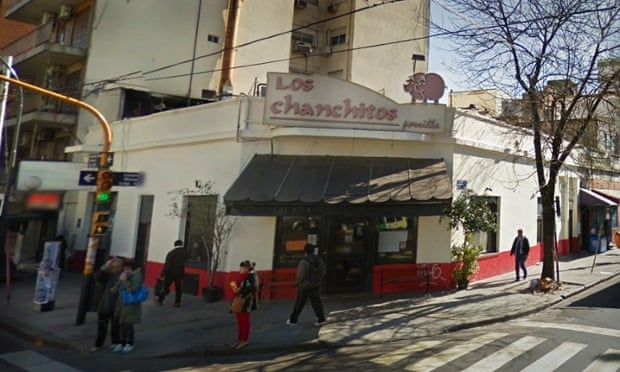 But two years ago Pereyra realised its proprietors, who owned four other restaurants, were heading for a crash. "They owed rent on the building, they owed us back wages and had fallen behind on our social benefits payments," said Pereyra. "I realised they were planning to close Los Chanchitos behind our backs."
In previous decades, there would have been little Pereyra could have done to save his own job and that of his 27 other co-workers. But after Argentina's cataclysmic economic collapse in 2001, when the country defaulted on its massive foreign debt and the government impounded all bank savings accounts, so many firms went into bankruptcy that workers were forced to find innovative solutions to save their jobs.
"Faced with the closures, instead of folding their arms and going home, many workers took the decision to form co-operatives," said Andrés Quintana, spokesperson for CNCT, the National Confederation of Work Co-operatives.
Worker-managed firms existed before the crash. "There are probably between 5,000 and 6,000 co-operatives in Argentina today," said Quintana. "The largest growth has been in recent years." They provide jobs for more than 60,000 people.
For many, such as Pereyra, who worked the night shift at Los Chanchitos, forming a co-operative was a matter of survival.
"I remember the date, 23 April 2013, I spent all afternoon wandering around trying to figure out what to do," Pereyra recalled. "The owners were pulling out and we had to take a decision. That night I called together all the waiters and the rest of the staff and proposed forming a co-operative."
The restaurant's employees kept the takings from that night and the next day, but when the meat and vegetable suppliers arrived, Pereyra took his first brave step. He informed the suppliers that the employees had taken over the restaurant and that daily deliveries would be paid in cash from then on.
The switch is not an easy one. "It's a very difficult process for workers," said Quintana. "Some are suddenly thrust from behind the counter to putting on a suit and going to work out a deal with the bank."
"The first months were very rough, I was a traumatic wreck," confessed Pereyra, 50. "But we had no other choice, our jobs were at stake. Many of us were over 45and would have had a hard time finding work again. For the first nine months I had to sleep at Los Chanchitos to get the business on its feet."
On a larger scale, the workers at the large Bernardi oil storage plant in the Dock Sud area of the port of Buenos Aires were forced to take the firm over after it went bankrupt as Argentina's economy imploded 14 years ago.
"It was a typical case of a company that collapsed during the 2001 crisis," said José Sancha, of Decosur, the 30-member co-operative that now runs the formerly privately owned plant.
Decosur stores gas oil, petrol and fuel oil that is unloaded from tankers arriving at Buenos Aires in its 42 tanks with a combined capacity of 39,000 cubic metres.
"The first years were very tough," Sancha recalled. "It's an activity that requires meeting strict environmental norms, dealing with very diverse clients and securing the necessary concessions with the port authorities."
But once the switch had been completed, business blossomed for the new cooperative. "We have now expanded to include an adjacent lot owned by another firm and we have even put in a pipe that connects us directly to the Dock Sud power plant," said Sancha. Decosur now pipes liquid fuel to the 775-megawatt plant that feeds electric energy to a large slice of Buenos Aires.
Umbrella groups such as CNCT have stepped in to smooth the bumpy transition. "We provide training tools, we set up networks, many firms have fallen by the wayside," said Quintana.
"The most complicated part for us was the legal settlement with the previous owners," said Pereyra, who continues waiting at tables despite his new business role.
A pleasant surprise that followed after the co-operative took over was the return of many clients lost as the quality of the food dropped when the previous owners stopped reinvesting in the restaurant.
"If you stop paying your cook on time and you lower the quality of the meat, the client notices straight away. But when they saw that things started improving after we took over they started coming back."
Unlike a normal business, which must turn a profit for its owner, a co-operative run by its workers tends to provide better conditions for its employees.
"We don't retire our older employees, we find other tasks for them," Pereyera said. "One of us needed surgery which he couldn't afford, for example. So we got together between us and decided that the co-operative would cover the operation, because he had been working at the restaurant for 20 years. As a matter of fact, he just had the operation yesterday. A normal business maybe wouldn't have cared, but we did."
Uki Goni
Continue to Read the full Original Article at The Guardian – http://www.theguardian.com/world/2015/may/01/may-day-workers-of-the-world-unite-and-take-over-their-factories