From Istanbul to Barcelona, the co-operative movement is flourishing as employees revive what the bosses buried
Reports from Jon Henley in Marseille and Thessaloniki, Ashifa Kassam in Mataró, Spain, Constanze Letsch in Istanbul and Uki Goñi in Buenos Aires for The Guardian – Original Article – http://www.theguardian.com/world/2015/may/01/may-day-workers-of-the-world-unite-and-take-over-their-factories
Greece: 'This is about equality' – Jon Henley
Marius Kostopoulos was painstakingly dripping lemon essential oil into the 300-odd plastic bottles that he and his three colleagues had spent the past hour or so filling with all-purpose liquid household cleaner. This was not the job he was taken on to do in 2004 at Viome, a once highly profitable manufacturer of building supplies – ceramic tile adhesives and grouts, to be precise – on the industrial outskirts of Thessaloniki, Greece's second city.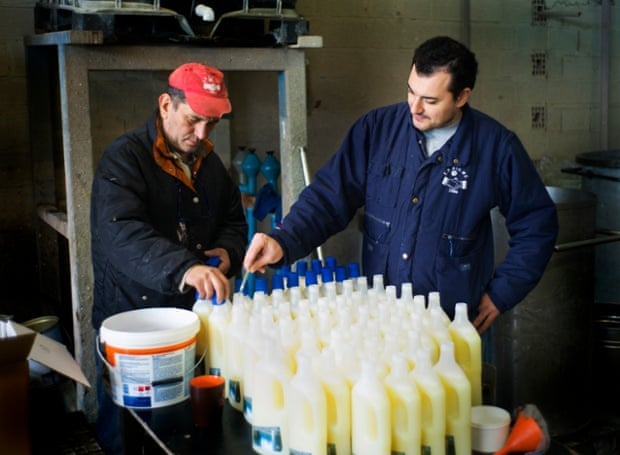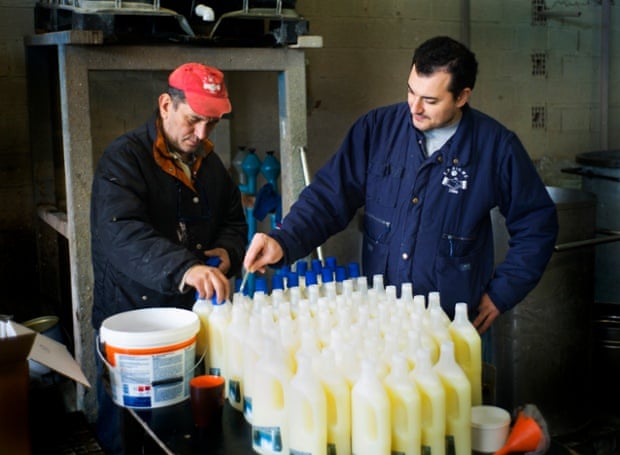 But Viome no longer really exists. Faced with the near-total collapse of the Greek construction industry, a consequent 40% slump in sales and a 30% increase in energy costs, its parent company, Philkeram-Johnson – majority owned by the local Philippou family– went spectacularly bust four years ago.
Kostopoulos and his 45 fellow production workers were already working shorter hours. In May 2011, their pay cheques stopped coming (although they have never officially been made redundant, meaning they are deprived of even minimal Greek jobless benefits). Then in September that year, Philkeram-Johnson simply abandoned the site. So Kostopoulos and 20 of his colleagues are occupying its echoing, increasingly rundown machine halls and warehousing and – for the time being, at least – making a bit of money.
"It certainly isn't enough to survive on," said Kostopoulos, whose wife, a daycare worker, is now at home looking after their 16-month-old son. "I need other work to get by, so I help out on evenings and weekends as a waiter at weddings, bar mitzvahs, that kind of thing. Other people's festivities … But it's up to half the €500 or €600 we live on each month. I couldn't do without it."
When Philkeram-Johnson left, the workers' first thought was to prevent the machinery and stock being taken by the company. If that disappeared, they feared, there would be no chance of them ever seeing the €1.5m they were owed in backpay and compensation.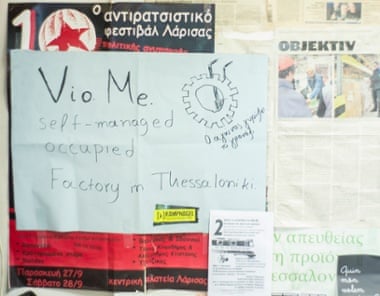 But what they really wanted, from the outset, was simply to keep working. "No one wants to be unemployed," said Dimitris Koumatsioulis, 45, another ex-worker and founding co-operative member. "In Greece in particular, here and now, we couldn't have another 45 workers unemployed, another 45 families deprived of an income."
At the very first of their general assemblies, a proposal to stay on in the factory and run it as a self-managed co-operative won 97% approval. A delegation of workers went to Athens for talks with the employment ministry; the Philippou family, majority owners of Philkeram-Johnson, made it clear they did not envisage restarting production on the site.
By mid-2012 the Viome workers had contacted solidarity networks in Greece and abroad, exploring the possibility of producing a range of environmentally friendly soaps, washing-up liquids, softeners and detergents. The products had to be cheap to make, using existing machinery and raw materials that were simple to source.
Local citizens' associations and unions promised to distribute a proportion of the factory's output, followed by many of the dozens of small co-operative stores and markets then starting to spring up around Greece as the country's formal economy spiralled downwards.
In February 2013, after a three-day solidarity event in Thessaloniki that included a benefit concert attended by more than 6,000 people, production at Viome restarted under the workers' control, and in April last year a court recognised them as a legally constituted, not-for-profit social co-operative.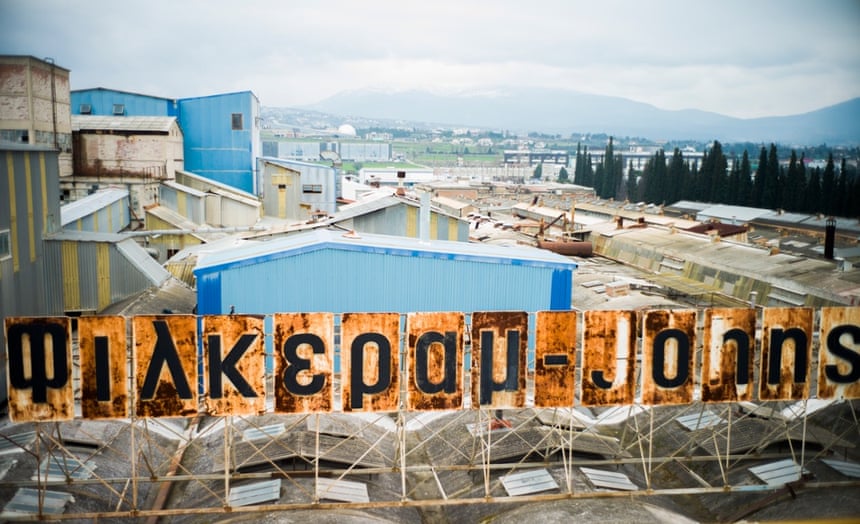 Viome products are now sold through charity and solidarity networks in Greece, Germany, the Netherlands, Switzerland and Austria. Its co-operative statutes, which emphasise the key principles of collective decision-making and ownership, refer to the venture's "solidarity supporters": organisations and individuals who have pledged to purchase a percentage of the factory's output every year.
The co-operative has fought a series of court cases against Philkeram-Johnson and the Philippou family, who have repeatedly said they have no plans to use the factory themselves but now want to sell the land to pay off outstanding debts to banks, suppliers and employees.
Greece's new radical left government is considering legislation allowing workers to legally take over factories abandoned by their owners. But ultimately, said Koumatsioulis: "We don't want to hide it: above and beyond our own jobs and our families' futures, this is about equality, democracy, the whole employer-employee relationship."
If Viome eventually succeeded in its target of producing up to a tonne a day of soaps, detergents and cleaning fluids, said Kostopoulos, "we'll be better off here – psychologically, politically, economically – than we ever were when we had bosses. We're working for each other. That's the difference".
Jon Henley
Continue to Read the full Original Article at The Guardian – http://www.theguardian.com/world/2015/may/01/may-day-workers-of-the-world-unite-and-take-over-their-factories