From Istanbul to Barcelona, the co-operative movement is flourishing as employees revive what the bosses buried
Reports from Jon Henley in Marseille and Thessaloniki, Ashifa Kassam in Mataró, Spain, Constanze Letsch in Istanbul and Uki Goñi in Buenos Aires for The Guardian – Original Article – http://www.theguardian.com/world/2015/may/01/may-day-workers-of-the-world-unite-and-take-over-their-factories
Spain: 'This was new for us'
– Ashifa Kassam
In a small green space tucked between tall apartment buildings, two teenage girls giggle self-consciously as they begin singing softly into their microphones. A crowd forms around them, clapping along as the videographer calls out instructions.
This hastily formed band is recording a video tribute to their city's music school, which for five years has offered drum, piano and band lessons, among others, to around 800 students in Mataró, a small city 20 miles from Barcelona.
Most music schools wouldn't elicit a tribute, but Mataró is different. In 2012, the school was on the brink of closure, a victim of changing political priorities and cutbacks driven by Spain's economic crisis. As the school's 40 teachers prepared for imminent unemployment, the students and their families took to the streets to demand that local authorities kept the school open. Finally a compromise was reached: the school would continue but its management would be privatised.
With little to lose, the school's teachers decided to bid for the contract. "We just threw it together," said piano teacher Aradia Sánchez de la Blanca. "The motivation was so pressing and the rage over everything we had been through was so intense that we started going down this path without thinking too much about the next steps."
From this kneejerk reaction Musicop was born, a co-operative that marries together music education and co-operative values.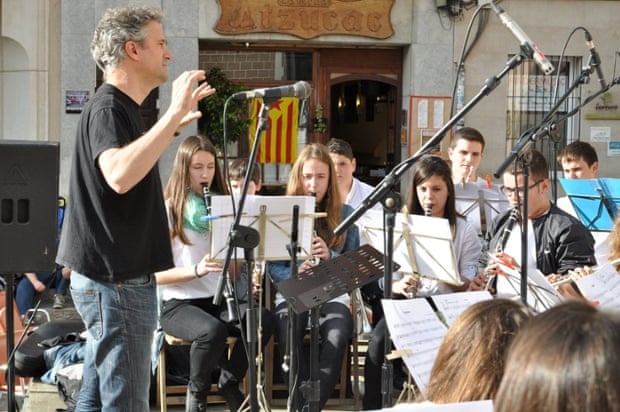 Their elation at winning the tender soon gave way to panic. "We went from basically being teachers to being members in a co-op," said Sánchez de la Blanca. "All of a sudden we had to think about how we were going to organise ourselves, manage our finances – this was new for most of us."
Most members had no idea what it meant to be in a co-op, said teacher Montse Anguera Gisbert. "The first year involved a lot of swearing," she said laughing. The co-operative is now in its third year and despite the steep learning curve and the country's economic crisis, it is growing. Today the co-op offers classes to nearly 2,000 students in seven municipalities, bringing music education to students who range from 36 months old to octogenarians.
The backbone of their growing enterprise is their monthly assemblies, where everything from management to expansion opportunities is on the table. To meet their obligation, Musicop has taken on another 40 or so part-time workers. Once there is enough fulltime work for these workers, the hope is that they can become members of the co-operative.
As Musicop's members grapple with the challenges of self-management, they have relied extensively on the resources around them. About a year ago, Musicop set up offices in Can Fugarolas, a repurposed car dealership and repair shop that now serves as headquarters for several other co-ops dealing in everything from solar energy to consumer goods – along with other community groups.
The city of Mataró boasts a rich history of co-operatives, said Ignasi Gómez, president of Musicop. "The first co-operative launched here in the late 1800s," he said, citing a co-op dedicated to construction launched in 1887. "Co-operatives are part of the local culture on many levels."
Spain today is home to some 18,000 co-operatives, a vibrant movement whose international face has often been that of Mondragon, one of the world's biggest workers' co-operatives. Founded by local priests in the Basque country in the 1950s, Mondragon today employs nearly 75,000 people and racked up global sales of more than €11.6bn in 2013.
"Mondragon offers inspiration on what's possible," said Paloma Arroyo, of Coceta, a group that represents co-operatives in Spain. In 2013 alone, she said, some 75 companies across Spain were turned into co-operatives by their workers, out of 150 companies across Europe.
On a Friday afternoon, Musicop's teachers were spread out across Mataró, offering classes in four places.
In a quiet primary school, pianos had been crammed into a small room where three girls were learning to play the theme song from Frozen. Elsewhere, another teacher had his hands full with eight pre-schoolerslearning the basics of rhythm in a class called Music and Movement. In an abandoned school that hosts many of Musicop's classes in Mataró, more than a dozen pre-teens sang and waved their hands in the air as they wandered around a room singing along to Vivaldi.
For 16-year-old Aida Garcia, the classes offer a window into a world she would have never known otherwise. "I love being in these classes," she said, adding that her dream was to play clarinet in an orchestra.
Propelled by the enthusiasm of their students, Musicop's members have pushed forward, even though salaries dropped by 30% initially. They have begun climbing back up, and are now about 12% shy of what they were before, said Gómez. "The salaries we make are respectable, but not ideal," he added.
Even so, few members hesitate when asked if it was worth it. "We're better off today, because we're empowered," said Gómez.
Ashifa Kassam
Continue to Read the full Original Article at The Guardian – http://www.theguardian.com/world/2015/may/01/may-day-workers-of-the-world-unite-and-take-over-their-factories