Reinventing the Sacred: A New View of Science, Reason, and Religion
Stuart A. Kauffman
2008, Basic Books
There are some books that do not fade after the first encounter. They do not let go of the mind, instead re-surfacing again and again, because they communicate something fundamental, something vital, with the potential to change an entire worldview. Stuart Kauffman's "Reinventing the Sacred" is one of those books, rarely-encountered, that collects a plethora of profound wisdom into one powerful read. This new work from a preeminent complexity theorist contains not only fluid prose but also important insights into physics, biology, human nature, economics, and culture, with serious implications for our changing world and our personal lives.
His laudable goal is to heal perceived rifts between science and the humanities, and in so doing, create possibilities for a sustainable and ethical future. To achieve this goal, he takes us on an excursion into the beauty of complexity.
To begin, Kauffman explains the difficulties that an overemphasis on reductionism presents for Science, as well as reviewing how some scientists, including theorists of complex systems, have responded to these issues.
Science faces two primary difficulties: first, an inability to predetermine the state space of all possibilities, and thereby to calculate probabilities, and second, an inability to determine in advance which properties of a thing are the ones that "matter." For example, the only way to calculate the probability of a standard die roll is to know the total number of sides on the die. If the die is magnetic and the table iron, the outcome could change. Unfortunately, there is no way of knowing the effect in advance, just as there was no way of knowing that swim-bladders in fish (which are used for buoyancy) would prove useful as lungs and catalyze migration onto land. Traditional causally-oriented predictive Science becomes impossible. Recent theories of self-organization, auto-catalysis, and emergence are the latest response.
Emergence is apparent when the properties of some whole group of elements possess properties radically different from what one could infer from its component parts. A typical example is that the liquid properties of water cannot be deduced from the water molecule itself, much less from the hydrogen and oxygen that comprise it. Reductionism fails in the face of emergent properties.
Diversity is a crucial factor. As diversity in the parts increases, interaction possibilities also increase, as does the likelihood of auto-catalytic self-organized emergence. Consequently, Kauffman expands his conception of emergence to include human agency and free will. Kauffman suggests that these factors evolve because they further increase interaction possibilities and thus the likelihood of emergence. In other words, agency and free will are not evolutionary accidents, but are instead to be expected given the nature of the universe.
At this point, Kauffman embarks on a discussion of "the quantum brain" and proceeds to show ways in which mind and matter co-create the world and ourselves by shaping interaction possibilities and choosing from among alternate futures. His fascinating example is that of energy reactions in chlorophyll, wherein quantum indeterminacy "permits the chlorophyll system to simultaneously explore in parallel all possible [future] pathways" and choose the most energy-efficient one.
Ultimately, indeterminacy becomes a key concept in "Reinventing the Sacred." Not only can we not know, we cannot even know what we cannot know. Some kinds of uncertainties are embedded in the universe itself. Moreover, just as we cannot arrive at a full understanding of any lawful regularities in physics, neither can we arrive at any self-consistent axioms for ethics or morality.
Kauffman suggests that "the word we need for how we live our lives is faith, bigger by far than knowing or reckoning. A committed courage to get on with life anyway." But this faith, the reinvention of the sacred, does not mean that we must invoke a transcendental "Creator God." Instead, in a near pantheistic move, Kauffman turns to the immanent creative forces in the universe, to "God as the unfolding of nature itself." The role for human agency in the unfolding universe is what Kauffman calls "living forward into mystery." Using an example of monkeys who give surplus food to those monkeys who have the least, Kauffman suggests that compassion and fairness are our best anchors for living forward into mystery.
All in all, while there are points to argue with, it is the arguments that the book provokes that are its deepest treasure. Stuart Kauffman offers an open invitation to begin a conversation that challenges both new and old understandings of the world and our place in it. If you read only one book this year, read this one. Then read it again. I'll even get you started. Here's the Preface and Chapter One.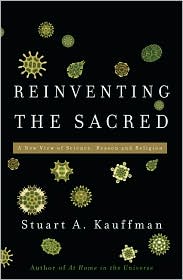 From the book Reinventing the Sacred by Stuart Kauffman. Reprinted by arrangement with Basic Books, a member of the Perseus Books Group. Copyright © 2008
kauffman-stuart-reinventing-the-sacred-preface
kauffman-stuart-reinventing-the-sacred-ch-1-beyond-reductionism