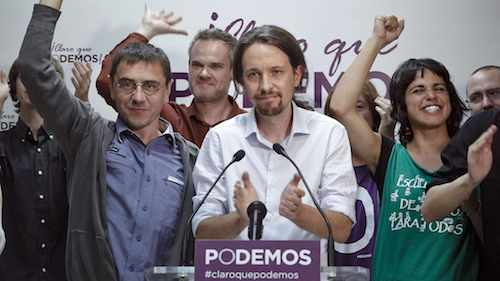 The following article, written by sociologist Carlos Declos, is the best overview I have read of Podemos' current situation. It was originally published at Reflections on a Revolution.
---
Some frequent questions about the political singularity that now leads the polls in Spain. Just who are Podemos? And could they be a force for change?
In April of 2013, the far-right Spanish television channel Intereconomía invited an unlikely guest to their primetime debate show: a young, Jesus-haired college professor with an unequivocally leftist background named Pablo Iglesias, just like the founder of the Spanish Socialist Workers' Party. Their goal was to corner him and hold him up as an example of an antiquated and defeated leftist past. Yet Iglesias responded to their rhetoric in a simultaneously polite but firmly antagonistic tone that appealed to both the younger generations who became politicized through the indignados movement and the older generations who did so during Spain's transition from dictatorship to constitutional monarchy.
Over the following months, Iglesias and the team of academics and activists behind him were able to use this window of opportunity to catapult the message of the social movements and, most importantly, the people left behind by years of austerity and neoliberalism, into the mainstream media. Shortly after gaining access to the media, they formed the political party Podemos ("We Can"), initiating what polls are showing to be an authentic dispute for control of the Spanish government. How they were able to accomplish this in such a short amount of time will be studied in the political and social sciences for years to come.
Because it is a process that I have followed very closely for a number of years, I have often been asked by independent media-makers, academics and activists about how all of this came to be and what the implications are for movement politics. In this piece, I try to address some of the main questions I get from people who are actively engaged in the struggle for a real democracy.
Who are Podemos? Who are its leaders? Is this just another typical leftist party?
Podemos is a new political party that emerged at the beginning of 2014, initially as an alliance between the trotskyist Izquierda Anticapitalista and a group of academic "outsiders" with an activist background who had built a vibrant community through a public access television debate show called La Tuerka ("The Screw"). When I refer to this second group as outsiders, it is not to suggest that their academic output is eccentric or of a low quality. Rather, they are the types of academics who do not fit the mold favored by the so-called Bologna reforms of higher education in Europe, with its emphasis on highly specialized technical "experts" and empirical research, and its hostility towards a broader, theoretical and more discursive approach. These academics are currently the party's most recognizable faces due to their formidable skills as communicators and their access to the mainstream media.
Recently, Podemos held elections for their Citizens' Council, which is effectively the party's leadership. Over 100.000 people participated in those elections through online voting. The team selected by Pablo Iglesias won by an overwhelming majority. It includes an interesting mix of academics, activists and some former politicians. For instance, Juan Carlos Monedero worked as an adviser to Hugo Chávez between 2005 and 2010, and he also advised Gaspar Llamazares of the Spanish United Left party. Íñigo Errejón is a very young and highly promising political scientist who carried out research in Bolivia and Venezuela, though prior to that he was one of the founders of Juventud Sin Futuro (Youth Without a Future), who had a major role in spearheading theindignados movement. Other activists from Juventud Sin Futuro include Rita Maestre and Sarah Bienzobas. Rafa Mayoral and Jaume Asens worked as lawyers for the Plataforma de Afectados por la Hipoteca (PAH), the highly successful civil disobedience movement for decent housing. And Raimundo Viejo and Jorge Moruno are prominent intellectuals associated with the autonomist left.
Whether or not Podemos can be considered a typical leftist party will depend on its evolution. What is clear is that they do not adopt the rhetorical and aesthetic baggage of the marginal leftist and green parties that currently decorate European parliaments. Also, in contrast to SYRIZA, Podemos did not exist prior to the 2011 wave of protests; they emerged based on a diagnosis of the movements' discourse and demands. Much of what has made Podemos so effective in the post-2011 political arena has been their ability to listen to the social movements, while the pre-existing Spanish political parties were busy lecturing them. Yet, as time progresses and support for the party grows, Podemos is finding itself increasingly tempted to assume the structures that are best adapted to Spain's formal institutions. Unsurprisingly, these structures are those that currently exist. Whether or not this institutional inertia can be overcome depends on the degree to which the party's constituents are capable of maintaining tension with its leadership structure and guaranteeing their accountability.
Why did Podemos explode onto the scene in the way they did?

Podemos burst onto the political scene because they understood the climate in the aftermath of the 2011 protests better than any other political actor. For example, the role of the social networks in connecting those movements was extremely important, but a lot of people and political organizations misinterpreted that fact as support for a techno-political, decentralized peer-to-peer ideology. In contrast, I think Podemos saw the social networks as a discursive laboratory through which to build and strengthen a common narrative that they would then take to the public arena in order to maximize its impact. To put it bluntly, they were not content with memes and likes and long comment threads. They wanted to take that discussion to the bars, the cafés and the unemployment lines.
In a sense, the key to Podemos's emancipatory potential can be summed up in a phrase popularized by Raimundo Viejo and later put into a song by Los Chikos del Maiz, a Marxist rap group that has been very close to the party's emergence: "El miedo va a cambiar de bando," which translates to, "Fear is going to change sides." Currently, they are accompanying that phrase with another, saying that the smiles are also starting to change sides. Using this approach, what they have managed to do is take the insecurity and fears produced by precariousness, unemployment or poverty and, in contrast to projecting it on immigrants (which is what Nigel Farage, Marine Le Pen and, to a lesser extent, Beppe Grillo have done), they project it onto what they call "la casta" (the caste), which is basically the ruling class. And they have done this while, at the same time, "occupying" feelings like hope and joy.
Who supports Podemos? What segment of the population would consider voting for them?
In most of the reports I have seen or read in English, Podemos is described as a sort of outgrowth of the indignados movement, in something of a linear progression. I think this is wrong. While their message resonated far beyond their class composition, the indignados movement was largely composed of a relatively young, college-educated precariat. Their emphasis on direct action and slow, horizontal deliberation introduced something of a selection mechanism into actual participation in the movement, whereby people who were less versed in the culture of radical politics, had less time to spend in general assemblies, were not entirely comfortable with public speaking, were not particularly interested in learning new internet tools and were not willing to take the risks associated with civil disobedience were filtered out over time.
In contrast, Podemos's access to television guaranteed contact with an older audience, which is extremely important in a country such as Spain, with its older population structure and decades of low fertility. And the types of participation that Podemos enabled (namely, ballot boxes and smart phone apps) have a low learning curve, require less time and involve fewer risks than the more autonomous politics of the indignados. Because of this, Podemos attracts a crowd that includes a much larger component of underprivileged, working class and older people, in addition to a very strong, college-educated youth demographic.
The ideological composition of the people who support Podemos is also interesting. While the bulk of the support they draw comes from people who used to vote for the center-left "socialist" party, nearly a third of the people who currently support them had previously abstained from voting, turned in spoiled ballots or even voted for the right-wing Popular Party. Furthermore, while Podemos openly rejects the standard "left-right" division that has characterised Western politics for years, surveys are showing that their voters mostly view themselves as leftists, that is, neither center-left nor far left. Taken together, this might suggest that Podemos are drawing on something of an untapped leftist imaginary, or that they may very well be redefining what it means for people to consider themselves "leftists" in Spain.
What is Podemos's relationship with the grassroots movements?

Podemos's relationship with the grassroots movements is a tricky question to tackle. In addition to the establishment parties and the mainstream media, some people who are active in the grassroots and social movements have been quite critical of Podemos. There are a lot of reasons for this, and I think it is an issue that requires much more reflection than what I can offer here, which is entirely my opinion at the moment. But at its heart, Podemos is part of a growing exasperation with an institutional "glass ceiling" that the social movements keep bumping up against and have not been able to shatter. This exasperation is visible not only in the rise of Podemos but also in the emergence of municipal platforms intended to join outsider parties, community organizations and activists in radically democratic candidacies. In this context, people from the social movements are generally split between those who favor that type of participation and those who prefer a radicalization of non-institutional action.
The main criticism I see coming from the second group is that Podemos started "from the top and not from the bottom." I think this is wrong. A comically low-budget local TV show and a Facebook page are not what I would consider "high" in a neoliberal chain of command. What Podemos have done is rise very quickly from there, and as they have done so, they have had to deal with questions related to institutional inertia and the autonomy of their own organization. And that is where I think critical voices coming from the social movements are right to be nervous.
While Podemos initially drew its legitimacy, structure (the Círculos they started in various cities were basically conceived as local, self-managed assemblies) and demands (a citizen-led restructuring of the debt, universal basic income, affordable public housing, an end to austerity policies, etc.) from the social movements, their intention was always to draw people from beyond the social movements. They have succeed wildly in doing so, and it turns out that the world outside of the social movements is huge. And despite the fact that they agree with the demands of the social movements, that world appears to be less interested in the social movements' methodology than the social movements would like. This is enormously frustrating, because it confronts us with our own marginality. It is also unsurprising, because if people who are not activists loved our methodology as much as our message, there would probably be a lot more activists.
The main example of this tension is the internal elections. So far, Iglesias's lists have consistently won with close to 90% support, and many people who have been influential in shaping the discourse of the social movements (and even that of Podemos itself) are increasingly being left out of decision-making because they are not on those lists. Once out, they discover how little influence the social networks and the Círculos actually have not only relative to that of the members who appear on TV, but also on the people who are not actively involved in theCírculos, yet still identify with Podemos enough to vote in their elections. So far, this has led to some internal accusations of authoritarianism, which I find misguided and think are kind of missing the point. I think the real problem is that we are finding that, in the present climate, people are generally happier to delegate responsibility than we suspected, at least until they can vote on specific issues that affect their daily lives.
At the same time, this propensity to delegate depends a lot on the legitimacy and trust people have in Podemos, which to a large extent was built through their relationship with the streets. So I think the influence the social movements have on Podemos is going to depend on their ability to engage in street politics in such a way that they are able to meet dispossessed people's needs, on the one hand, and shape the public conversation in a way that forces Podemos to position itself. An example would be the PAH. Podemos cannot stray too much from their demands for decent housing because everybody knows and agrees with them. If Podemos were to stray too far from their demands, the PAH could mobilize against them or simply put out a harsh press statement, undermining their legitimacy considerably.
Where do you see this going? Could Podemos actually win the elections?
I think this is going to change Spain and Europe as we know them, no matter what. Polls are showing that Podemos have a real shot at being the most voted party in the country. Some show that they are already the most supported, and Pablo Iglesias is by far the most popular politician in Spain. If Podemos were to win, in all likelihood the Popular Party and the "socialists" would try to form a national government centered on guaranteeing order, making a few cosmetic changes to the constitution and sabotaging any chance for Podemos to ever beat them. They would also probably try to destroy any chance at something like Podemos rising again. As it stands, the establishment is doing everything in its power to discredit them: associating them with terrorist organizations, accusing their spokespeople of misconduct based on nothing, fabricating news stories. Fear really has changed sides, and it is clearly the establishment that is frightened.
In this sense, I think it's very important for movements, and for Podemos themselves, to think of what is happening as a kind of political singularity. This is not Obama putting the Democrats in the White House. It is a group of people who have been actively engaged in the struggle against neoliberalism that have managed to turn a populist moment during a period of economic crisis into a hope for a better democracy and an end to neoliberal austerity. At least in Spain, to blow this chance could be a major step backwards for emancipatory politics, towards another long journey through the desert.
Carlos Delclos is a sociologist, researcher and editor for ROAR Magazine. Currently he collaborates with the Health Inequalities Research Group at Pompeu Fabra University and the Barcelona Institute of Metropolitan and Regional Studies at the Autonomous University of Barcelona.