What great news – the P2P Foundation has been awarded the 2016 Golden Nica for Digital Communities from Prix Ars Electronica! It's such a pleasure to share this news with our community – and because "digital community" was the category that we chose for our application, I'd also like to share the video and text prepared for the judges' consideration. Prix Ars Electronica is mainly focused on the arts, so we had the option to present something other than texts to represent us. As I was working on the submission I was thinking, I know we are a digital community, but how can we represent that? What does a digital community look like? It's a type of interaction, so I wanted to show that happening. To make that work, we produced a short video addressing the nature of digital communities, including if and how they differ from "real" or offline communities. Below is the short text which I wrote to accompany our video of interviews with a handful of people who were attending the Procomuns (Commons Collaborative Economies) event in Barcelona.
Thanks to the P2P Foundation core team: James Burke, Bill Niaros, Vasilis Kostakis and Stacco Troncoso and our founder, Michel Bauwens. Thanks again to Stacco and to George Dafermos for the video work, and all the interviewees in the video: Loretta Anania, Dmytri Kleiner, Enric Senabre, Rachel O'Dwyer, Hilary Wainwright, Primavera De Filippi, Derek Razo, Sybille Saint Girons, Nuria Del Rio Paracolls, and Danielle Boursier. And special thanks to our entire P2P Foundation community, a global-digital-human community built on the understanding that a better world is possible if we work, think and share together.
Here is the text that accompanied our video submission, seen above.
---
On the morning of Sunday, March 13, 2016, I was at home in Madrid, Spain. At the same time, northeast of here in Barcelona, many of my colleagues in the P2Pvalue project – of which the P2P Foundation is a project partner – were attending an event called "Procomuns – Commons Collaborative Economies".
The event was chiefly organized by the project partner based in Barcelona, but all partners had a hand in making the event an extraordinary success. Here's the thing – I wasn't able to attend (family reasons), but my husband was there. His name is Stacco Troncoso and he's the strategic director of the P2P Foundation. I'm Ann Marie Utratel, handling communications for the Foundation – and this video is a result of the way we live and work, online and offline.
Our principal duty in the P2Pvalue project is dissemination through our vast digital community network. So, Sunday morning, I sat at my laptop with my Telegram chats and Slack channels open, Tweetdeck set up so I could retweet interesting things on any of the 7 Twitter accounts we manage, and the livestream videos of the event running. Stacco and other friends and colleagues were sending me photos via Telegram, and I was managing social media, uploading photos to Wikimedia Commons, and having an experience I'd never had before – total digital immersion in a live event where I was not physically present. Talk about remote participation.
.@P2Pvalue follows a fully Open approach: publications open access, Taylor Swift, open licensed software #Teem #procomunsbcn @procomuns

— OpenDataTaylorSwift (@t_s_institute) March 13, 2016
Because of the livestream, I could see and hear a lot of familiar cues and ambience that are lost in still photos and staged videos. But there were many things I was missing: the conversations that happen when people get tired of speeches and workshops; the sound of the street outside when stepping out for air; the feeling of anticipation or concentration when some especially interesting speaker is on stage, or talking in the open spaces.
This event had a particular focus:
"Commons Collaborative Economies: Policies, Technologies and City for the People is an encounter which aims to highlight the relevance of the commons-oriented approach of peer production and collaborative economy, while proposing public policies and providing technical guidelines to build software platforms for collaborative communities".
The local city administration was present, as the interest in Commons/P2P methods and policy proposals has been rising with the current political changes happening in Spain, along with the attention drawn by the so-called "sharing" economy, and its counterbalancing force lately called the "collaborative economy". The event's aim was:
"…to discuss the potential and the challenges of the collaborative economy, but also to define public policies that could help to promote the 'Commons side' of the collaborative economy. During the event we will be working together on a series of proposals and policy recommendations for governments, ending in a joint statement of public policies for the collaborative economy. In particular, we will address them to the Barcelona City Council and to the European Commission. In terms of Barcelona, the goal is to submit specific measures to the Municipal Action Plan of the city, alongside joining the participation process that has been enabled online." (complete online text here, including European level policy proposals).
Let me get to the best part – the people. In attendance were roughly 400 people from 4 continents, and about 40% were women. The participants page on the site showed that we'd succeeded in avoiding the dreaded "all–male panel" awards. There were families with little kids. This event was just about ideal in terms of showing that it's possible to bring a wide range of people who normally interact online into "the real world", and accommodate some of their expectations of balanced representation, and even a few of their often overlooked real-world needs – like childcare.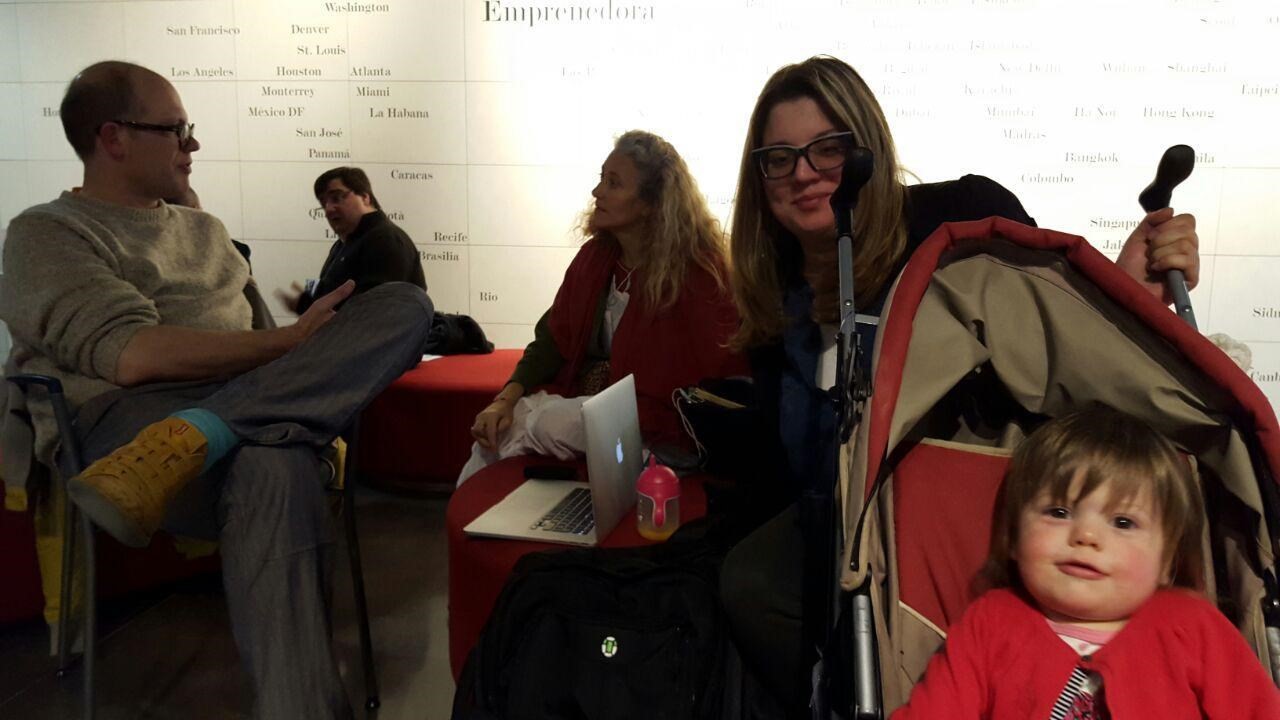 But I wasn't there! I was missing the vibe, the spirit of those introductions to people I'd always wanted to meet, the surprises of finding out "who we have in common", all of the serendipity that comes alive at a conference. To try and capture some of that magic, I asked Stacco (via chat) if he and P2P Foundation researcher George Dafermos (on camera as an interviewer in the video) could catch a few people on the fly and ask them two questions that would get them talking about the digital and "real world" communities: whether there's a difference between these, and how events and online activities interrelate.
The result is this video from a dozen short smartphone recorded interviews sent to me, which I edited and captioned into a neat 30-minute short of conversations. I love the way the feeling of the event comes through, and how everyone seems to agree – the digital community is very human, and these events are like special occasions to enjoy for the gift of finally meeting online friends for the first time, or reuniting with colleagues you haven't seen in ages. In this very unique case, the online interactions were incorporated into the fiber of the event, with participants being able to contribute to a landmark occasion in co-created policy recommendations towards a better society.