Mapping the newly emerging alternative economic approaches

11th February 2013
Tom Atlee's Co-Intelligence Institute is starting a new wiki to map 'emergent economy' approaches.
Here is a first tentative cartography: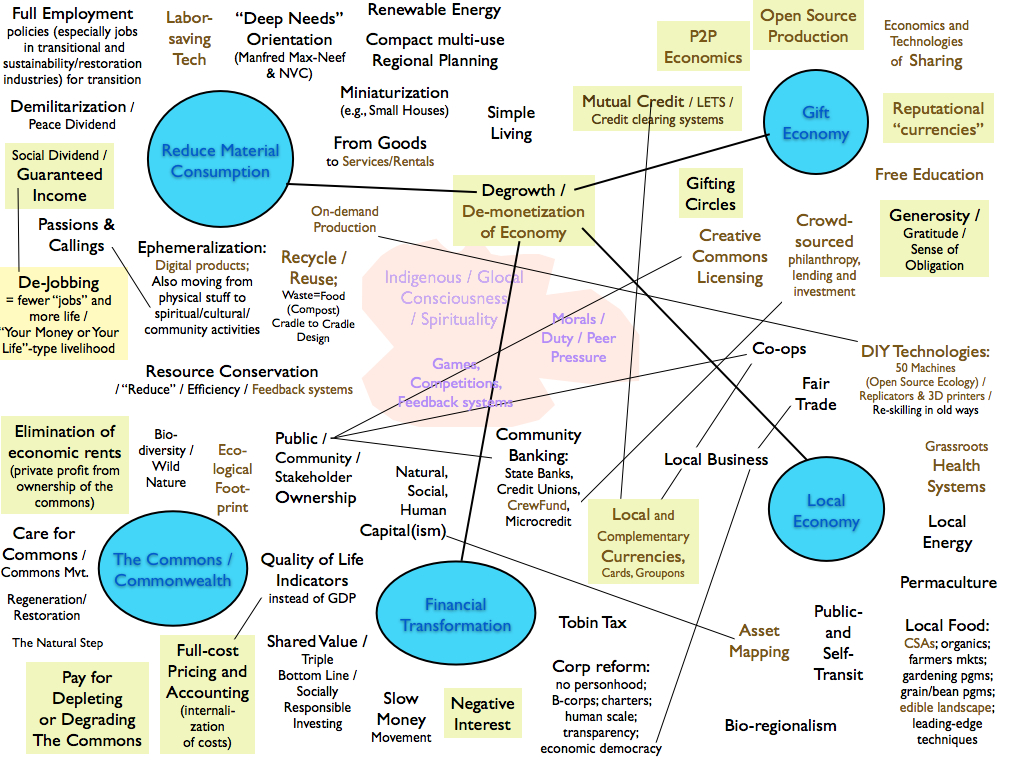 2 Responses to "Mapping the newly emerging alternative economic approaches"
kishor Says:
February 20th, 2013 at 10:10 am

To keep society engaged in the asset creation activity we need a simple model. A model under which people engaged in or intending engage in asset creation activities are allocated higher resources.
People, who have created assets in past and have cornered the resources but are unable to create further assets with resources held by them, have to taxed in a way that their resources allocation goes down.
This is possible with MINIMUM ALTERNATE TAX connected to current value of assets held.

Pedro Fernandes Says:
August 19th, 2013 at 11:15 am

I think that there is an underlying issue about the way in which the World's economic reality is assessed. We never question ourselves about it, but the trutth is surfacing now. We have a natural tendency to see the economy, growth, society, people,and more through a lens that is influenced by jobs: job creation, job market growth, the social value of jobs, the social burden of jobs, job losses, etc. We should move away and look at demographic growth, food shortage, options in societary and economic policies with different eyes, at a planetary scale, and avoid evaluations that artificially based on jobs. The evident reality is that demographic growth does not stop, In 40 years we will not have food, let alone jobs (!) to support our existence in the planet. Why should we insist in letting important decision making be based in indicators that reflect jobs primarily as a value? Can we afford crises one after the other and ignore this?
I look at this diagram and I see a lot of value in this exercise but I wonder how much of the underlying models are wrongly influenced by indicators that have such a questionable value.
Leave a Reply